Message by the Pro Vice- Chairman, Shri. Manish N Patel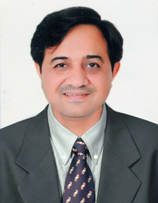 Nothing can be more joyous than to be able to provide the little angels of Godhra and adjoining cities a school that stands true on the definitions of holistic Education and joyous learning.
"You are here to grow into your best, You need to be free to grow, To have the emotional room to breathe, To stretch and try your wings, to succeed."
Our firm belief is embarking upon excellence. We at DPS Godhra are committed to provide education embedded with values. The relevance of what is being taught in educational institutions lies in achieving excellence in multifarious aspect of life.We believe in producing disciplined, confident, passionate, decision makers who can contribute to create a healthy society and are capable of becoming strength of someone who dares to dream and conquer.Delhi Public School, Godhra takes pride in providing a caring atmosphere to all itsstudents just apt for the young minds to be nurtured.We have immense pleasure in welcoming you to Delhi Public School,Godhra the much awaited highly progressive and enterprising school pledged to provide quality education with great emphasis on traditional values, ethics and modern global learning.
Mr. Manish Patel 
(President, Anshul Education and Charitable Trust.Lunawada)
 Pro Vice- Chairman 
Delhi Public School,Godhra.